Outdoorsy 6: Rocks, Fossils and Gold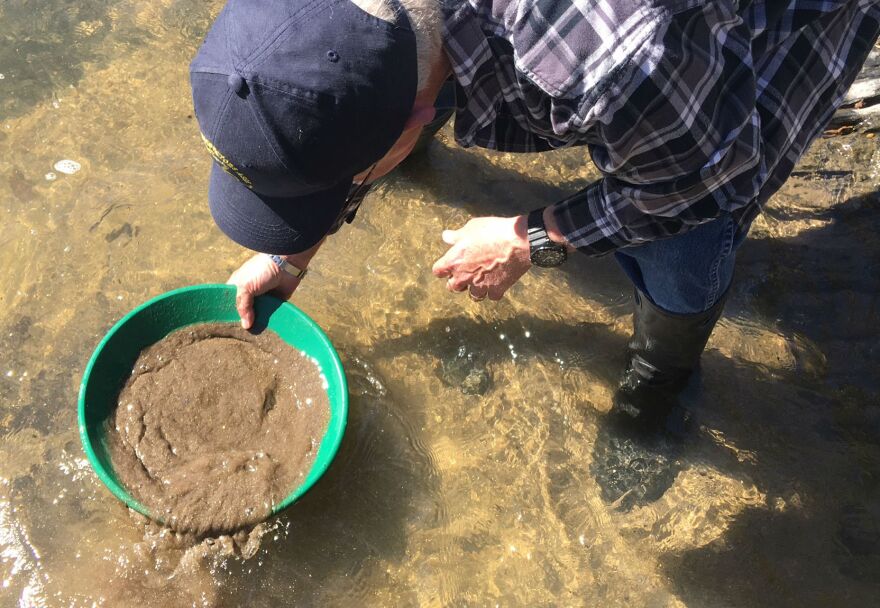 For today's show, we're exploring the Valley's natural resources. Those can include lots of things, like water, historical artifacts, and animal species, but today we're focusing on rocks, minerals and ancient fossils. We'll tell you how to find neat resources like these in and around the Valley, and how you and your kids can learn more about them. The audio version even features a few bonus geology puns!
GOLD IN THE REGION
So we've had a really wet winter and spring this year. Reservoirs are brimming and rivers are full. All that water is moving a lot of rocks down river. Ezra wondered what all that water was loosening up and carrying down waterways.
To find out more Ezra hung out with a few folks who know a lot about the subject, gold prospectors. They went out to the Fresno River near the mountain town of Oakhurst.
Meet Larry Riggs. He's been gold prospecting since he was six, he's now 69.
"That's a piece of gold, that little speck," says Riggs. "I've had three pans and I've found three or four pieces of gold."
Riggs is the claim director for the 900 member Central Valley Prospectors Club. They hold monthly meetings, have several claims across the state and teach kids how to pan for gold at schools. Only about a third of their members are women, but Riggs says many times they have better luck than men do. His wife Kathy is sifting through soil along the river. She admits that often Larry pays attention to where she pans for gold.
"I don't know if it's because we like jewelry or what, but there's a good sense of where it is. We used to have races to find out who would find the most gold," says Riggs. "Usually I would win because he goes by science and I go by feel."
"You can feel the boulders hitting the ground within the river through your feet. That's how much water power is coming down." - Mark White
Mark White, the group's director, also met up with them. He says all the runoff melting in the Sierra Nevada is creating perfect conditions to find gold.
"You can feel the boulders hitting the ground within the river through your feet," says White. "That's how much water power is coming down. Anytime you have that hydro movement you have gold movement, you have things breaking loose."
That's why White, the Riggs and two of their friends are searching through rock and sand in the river for the precious metal. And at 12-hundred dollars an ounce they say every flake they find is worth it. White says all you need to find gold along mountain streams, lakes and rivers is a shovel and a pan specifically made for gold panning. The pans they use have three ridges on one side that traps fine flakes. (The pans are relatively cheap and can be purchased on sites like Amazon). Riggs and Ezra waded a few feet into the river and dug into the soil under a calm area of water.
"Now what you want to do is get the whole pan under water and just shake it," Riggs says. "Then reach in and grabs those roots and shake those in there. [It's kind of fun] especially when you find gold at the end."
Riggs was excited to bring Ezra out panning for his first time. He told Ezra the goal is to get all the big stuff out and hopefully just get down to sand and flakes.
"We'll find you some gold today," says Riggs.
He says you can sift the rocks from the soil using a metal net, but they just plucked the rocks out with our fingers. Riggs looks at each rock in the sun to see if there's a vein of gold in it. He says a rock with gold embedded in it can be worth more than gold itself. When the rocks are gone Riggs has Ezra slowly swoosh water around the pan, while letting excess dirt and water out of it.
"You're a quick learner," Riggs says. "You're getting it down to the black sand now that's what you want. You can kind of turn and get the whole thing in the sun. It kind of helps you. Let me help you a little bit."
"You don't want to be bragging around too much or strutting too much, but you do want to come out and enjoy yourself." - Mark White
Riggs says gold is really heavy so it's usually the last thing left in the pan. Ezra found a few pieces of gold.
Gold panning is really simple, but could be addicting. Before they left the group warned Ezra about an illness they've all had at one time in their lives. They're talking about gold fever where people do crazy things for gold because of its worth. Mark White, the group's director, says people have murdered each other over the precious metal and not just during gold rush times.
"It can get real ugly real fast the bigger the gold," Whit says. "Nowadays it's a little bit better, but back in the old days they would just drop you and take it. You don't want to be bragging around too much or strutting too much, but you do want to come out and enjoy yourself."
That's why White says it's important to make sure it's legal to gold pan in the area you intend to go to. He says you can call the Central Valley Prospectors Club to find out. And as Ezra left he slipped his tiny vial of gold flakes into his pocket and drove down the hill back to Fresno. But not before the old timer asked Ezra how he felt when he first saw the gold he found.
"I had a little rush and when you walked away I was like I have gold fever," Ezra says.
The Valley's Other Hidden Gems
Ezra may have gold fever, but Kerry's more a rock and mineral kind of girl. She was wondering: If gold can still be found around here, what else lies beneath the surface? To find out, we wanted to find a rock collector. Surprisingly, our search didn't take to us to a mountain community or an active mining town, but to a military town in the middle of ag land: Lemoore.
Pereira's Jewelry and Design is a jewelry store that's been in downtown Lemoore for 30 years.
"I do feel like sometimes we're becoming the historians downtown, only because we've been here so long," says owner John Pereira, laughing.
John Pereira runs the store with his wife Judy. They've got walls full of glittery diamonds, gold and silver, but they've also got cases full of blue, brown and green minerals John's collected from around California. Not only is John a jeweler, he's a lapidary, which means he can cut and facet rocks and crystals, and he's a self-diagnosed rockhound.
"I like to look for benitoite, I like to look for jade, like nephrite jade and jadeite," he says. "I like to go out in the desert for agates and jaspers and some quartz materials and chalcedonies."
You've likely seen those stones before. They're pretty common in jewelry and art pieces. Jasper, chalcedony and agate are found in a variety of colors from reds to blues to vibrant stripes, and they're similar in composition to the common crystal quartz. Jade minerals come in a range of creamy greens and blues that lend themselves nicely to sculpture. Benitoite's less common: it's a blue gemstone, which happens to be the state gem of California. All of these, John finds out in nature, and he brings them back into his work.
"All of the agate, and jasper and benitoite and drusies [another quartz mineral], all of that we make," John says. "We make probably half of what you see in here, and a good part of the colored stone jewelry."
John founded the Lemoore Gem and Mineral Club a few years ago and for a couple years, he and Judy even helped organize some local gem shows.
On the day we visit, he's laid out a table with some samples he's collected from around California. He dips them in water to show me what they'll look like when they're polished. Some of these are hyper local – like this lovely crystal that almost looks like a big hunk of pink Himalayan salt.
"This is rose quartz. This is found kind of above and east of Delano, kind of between Delano and Porterville up in the hills up there," he says.
Another local rock from John's collection might be a little easier to overlook. On first glance it just looks like any other brown, spotted rock. But after some work from a lapidary like John, the colors pop out into a bright artist's palette. It's called rainbow ledge, and it's a combination of jasper and agate found in Ridgecrest, not too far from Bakersfield.
"It's very pretty when it's polished up," he says. "It doesn't look like much when you see it like this, but when you polish it, it has a lot of color."
There's plenty more around California if you're willing to drive a ways. John finds petrified wood and blue and green chalcedony out in the Mojave Desert, and he says you can find all different types of jade in a few coves near San Simeon.
John says one of his favorite stones is pearly, lustrous opal. But for me, standing in the middle of his store, I gravitate toward a display full of deep blue crystals near the front window. They're benitoite, a gemstone that produces a blue color a little bit softer than a sapphire. And the specimen pieces, which are basically just benitoite crystals in their natural rock, are gorgeous.
The mineral was first found in southeast San Benito County, not far from the edge of Fresno County. It's rare, and it can actually be worth a lot. John says he finds really nice samples up around Clear Creek, in Lassen County, but you can actually find benitoite at the site where it was originally mined. It's called the Cal State Gem Mine, and it's out near Coalinga. You can sift through tailings for any chunks left behind from the mining process. Pay $70 for the day and you can take whatever fits in a bag they give you.
"We just had a young couple in here about a month ago," John says. "They went up for the day, and the first shovel of dirt they took out of the tailings had a large benitoite crystal that's probably going to cut a stone, depending on what the faceter thinks of it, they'll get something from $1,500 to $6,000 out of it. It's a really pretty stone."
Rockhounding seems like it is what you make out of it. It can be a hobby, but you might be able to make some money out of it—or fold it into your career, like John has.
"Some people just want to look at the rocks," he says. "They put them on a shelf and that's as far as it ever goes. Some people get into cutting and polishing, some people like to make spheres out of them—there's just a lot of aspects of it."
If you're thinking of getting started, it's important to always know where you're going and what the laws are about whether or not you can harvest the materials you find there. To get to know the ins and outs of mineral prospecting, John recommends joining a local gem and mineral club. You can attend meetings, join field trips, and some even take classes on becoming a lapidary. There are a bunch of clubs in the valley - not only Lemoore, but also Fresno, Bakersfield, Coalinga, Visalia, Porterville, and many others. We've listed them at the bottom of this article.
Mammoths in Madera?
For the last segment of our show, we usually talk about gear or food. Today, however, we're doing something a little different: time travel, facilitated by a museum in Chowchilla.
"Today, during your visit, we will be taking you back in time to Fairmead, California, 700,000 years ago," proclaims the narrator of an introductory video at the Fossil Discovery Center, a paleontological museum in Chowchilla built around locally extracted fossils. "We will travel to a time before humans were here, a time of gigantic beasts, ferocious carnivores, and a variety of animals that are now extinct."
Walk inside the center and you'll find yourself face to face with a giant skeleton standing two stories tall.
"This is the Columbian mammoth," says museum manager Michele Pecina. "It stood about 14 feet tall and could weigh approximately 10 tons, so it was a huge animal and it could live up to 80 years."
Yeah: There's a replica mammoth skeleton in Chowchilla.
"It ate 300-600 pounds of grass a day, it had six sets of four molars each for its life, and when it lost its last set of molars, it would pass away because it could no longer eat," she says. "So the teeth were very important to this animal."
This mammoth is the museum's centerpiece, but there's a lot of other stuff here too. And the museum is here almost by mistake. It wouldn't be around at all if it hadn't been for trash.
"This center got started as a result of the find in May 1993 of a Columbian mammoth tusk at the Fairmead landfill," Michele says.
That mammoth tusk is around 700,000 years old, from a time period known as the Pleistocene. That may seem like a really long way back, but it's way after the dinosaurs, and long before modern humans were around. For reference, though, human ancestors elsewhere in the world had already begun using tools and learning to control fire.
Back in modern day Madera, there isn't a lot leftover from that time period. So finding that tusk spurred on a local fossil frenzy. In the 25 years since then, paleontologists have uncovered over 13,000 fossils at the landfill across the street.
"This effort is called 'salvage' paleontological effort, because the priority of course is for the public to have a place to put their garbage," says Michele. "It was incidental that this find occurred, but they still need to be valued as historical artifacts. So there is a plan: If they're digging and they come across a fossil, to stop to where it can be evaluated."
Through those efforts, paleontologists have gotten a pretty clear picture of what Pleistocene Madera County looked like. Michele describes it as something similar to the Serengeti. It was dry and desert-like, but it did have scattered water sources. And, like in modern-day Africa, those oases drew in all sorts of animals. Some came to drink the water, and others were there to eat those animals. Those that died there left behind bones for us to find.
"We have mostly the Pleistocene horse, then we have of course the Columbian mammoth, and we have a variety of sloths that have been found, the camelops, the saber-toothed cat, the dire wolf, and the short-faced bear," she says.
If you're familiar at all with the Game of Thrones book series or HBO show, you might have the same reaction Kerry had: Dire wolves are real? They sure are, says Michele.
"I've also watched the Game of Thrones, and the direwolf has attained almost a mythical quality," she says, "but the direwolf was definitely a carnivore that roamed our area."
So it's not just mammoths at the Fossil Discovery Center. They've got display cases full of local minerals and rocks, posters about ancient plants, and replicas of the skeletons of all the major mammals found in the area.
Even saber-toothed cats, one of Ezra's favorite extinct animals (Kerry's is the triceratops, in case you were wondering). Michele showed us a saber-toothed cat skull we could touch and pointed to its huge, saw-like canines. The sharp edge of it was enough to give Kerry the chills.
"You feel the serration?" Michele asks. "That was a fascinating thing to learn. It was just like a knife. They were a fierce creature, and the other thing they could do is fully open their jaws to take in the head or body parts. They were completely opened."
Michele says around 10,000 students come through the museum every year, so almost everything's interactive. In fact, according to Michele, one of the most popular exhibits is a mock dig. Near their artificial pond out back, they have a big sand pit where they've buried a few dozen bones for kids to dig up. She pulls out a brush to show us how it works.
"We show them how a paleontologist would approach this," she says. "We show them how to carefully move the dirt off, and then they have one of these binders and they're able to identify what they're digging up."
One exhibit that stands out isn't about extinct animals, but about people—one person, actually. It's an homage to Mary Anning, the first known female paleontologist. She's British, and she's got no connection to California that I'm aware of, so it's especially interesting that the museum curators chose to highlight her and her contributions to the field of paleontology.
Think this museum is your speed? (Or your kid's) It's right off the 99 between Madera and Chowchilla. You can stop by on your way to rock collecting in northern California!
Find your local gem and mineral club: