Fresno County's California Chrome Eyes Triple Crown
Jockey Victor Espinoza rides California Chrome to a victory during the 140th running of the Kentucky Derby.
Official Kentucky Derby twitter account
California Chrome as a yearling.
Harris Farms
The Kentucky Derby Champion a day after he was born.
Harris Farms
David McGlothlin treats Lucky Pulpit to some carrots.
Love the Chase strides calmly at Harris Farms.
After winning the Kentucky Derby without breaking a sweat, California Chrome is one step closer to horse racing's ultimate but elusive goal - the Triple Crown.
The San Joaquin Valley grown colt blew away the field at Saturday's 140th running of the Kentucky Derby. His 77-year-old trainer, Art Sherman, is now the oldest trainer to win the Derby.
Reid Cherner with USA Today has covered nearly 20 years of horse racing and says the race was over when the gates opened.
"When jockey Victor Espinoza said to the horse let's go, this horse exploded like very few horses that you see, and the race was over. He put such a margin on this field and then he just sort of eased him in so I was surprised at how easy this victory was," Cherner says.
California Chrome's exceptional tale has its roots in Fresno County. Last week, I visited the place where it all began - Harris Farms in Coalinga, a small rural town near I-5.
David McGlothlin, the horse division manager, gave me a tour of the farm where Chrome grew up.
"He's a product of the Valley. His entire life up until going to southern California was here in the Valley either on the west side of the Coalinga farm or over on the east side at our Sanger facility. He's San Joaquin, he's Valley green," he says.
The three-year-old colt's remarkable tale started in the womb of Love the Chase. Chrome's owners Steve Coburn and Perry Martin bred the $8,000 mare to the stallion Lucky Pulpit for a modest fee of $2,500.
"He's a product of the Valley. He's San Joaquin, he's Valley green." - David McGlothlin.
Back at the farm, we first visit Lucky Pulpit who McGlothlin says has become the most popular stallion in California.
"He always gets carrots when he sees me so he always comes over. He's a very professional horse in the breeding shed which is very important. He'll cover 124 mares this year so he's very popular and a very busy guy," McGlothlin says.
We then take a stroll and visit Love the Chase and Chrome's yearling sister.
Coburn and Martin purchased her from another group after a disappointing racing career.
"She was not a very successful race horse. She only won one time and the partnership decided that it wasn't of any benefit to go on with her racing career. So they wanted to retire her, sell her to who ever wanted to take her on as broodmare and that happened to be Perry and Steve," he says.
McGlothlin says Love the Chase had a life-threatening experience when she gave birth to California Chrome.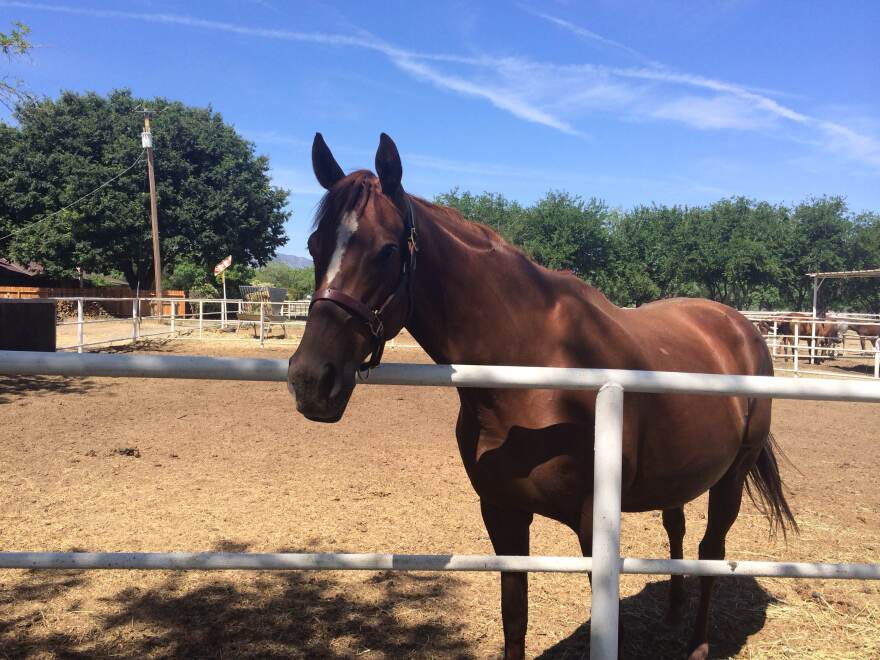 "It was a very traumatic fouling for the mare. The foul actually dragged a hoof and lacerated the mare's vaginal vault. It wasn't a full thickness laceration otherwise that would have been fatal."
Harris Ranch trainer Per Antonsen remembers training the Kentucky Derby champion as a yearling.
"They come in here, they're just like kids going through kindergarten. They learn all the basics. They learn how to gallop, switch the lead, start working short distance. We were doing that work with him. He was just really athletic, everything came easy to him," he says.
Antonsen says Chrome is a quick learner and will continue to improve as time goes on.
"He's just an athlete all the time, everything came very easy to him. He was a very smart horse and he did everything right all the time. When he started breezing out there and the owners came by I always told them 'I think you guys are going to have a lot of fun with this horse' and they sure are."
Now with the next leg of the Triple Crown less than two weeks away, does California Chrome have what it takes to succeed in the Preakness?
Cherner says the three-year-old colt hopes to shine in Baltimore.
"He'll be the favorite, you got to be crazy not to think he's the best horse in the race. I think this horse has Triple Crown potential without question." - Reid Cherner.
"He'll be the favorite, you got to be crazy not to think he's the best horse in the race. After they run the mile 3/16 we all may change our mind but yes I do think he can definitely win the Preakness. The mile and 1/2 in the Belmont is always a question for every horse but so is a mile and 3/16. I think this horse has Triple Crown potential without question."
The third leg of the Triple Crown is New York's Belmont Stakes on June 7.
It's been 36 years since a horse last completed the Triple Crown. That was Affirmed in 1978.
Now, horse racing fans are hoping California Chrome's fairy tale story continues.