"It Looked Really Dirty" – Now, Arvin Kids Drink Clean Water In Schools
11-year-old Johana Mendoza fills a water bottle at a new filling station installed at El Camino Real Elementary School.
Kerry Klein/KVPR
First-grader Shiloh Rivera holds up a reusable water bottle donated to every student at his Arvin school as part of an advocacy campaign called Agua4All.
Kerry Klein/KVPR
The state estimates that over a million Californians lack access to safe drinking water. After 15 years with arsenic contamination, one small Kern County community took the struggle for clean water into its own hands--in a campaign that could serve as a role model for others.
It's recess at El Camino Real Elementary School in Arvin and the courtyard is packed. Kids play tag and tetherball, and laughter echoes throughout the yard.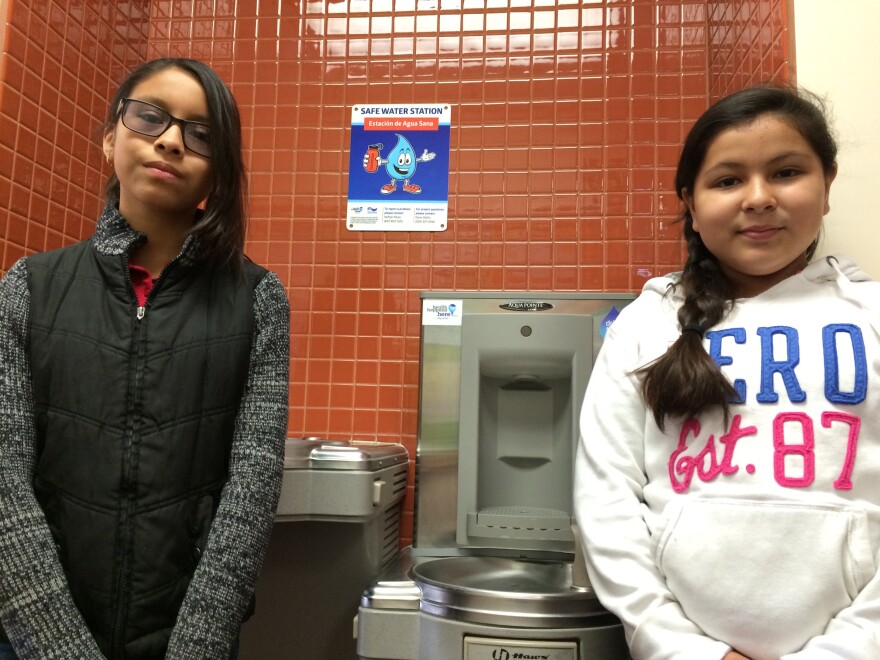 So does another, more subtle sound: the trickle of water at drinking fountains and water bottle filling stations. The kids know to get a drink when they need a break from the sun. That may sound totally mundane, but a year ago, 11-year-old Johana Mendoza wouldn't touch the school water.
"It was really dirty," she says. "I never drank it because my mom told me not to. And I also didn't really like the taste of it. It didn't taste clean, and it looked really dirty."
More precisely, it was contaminated—with arsenic. It's in the drinking water in this rural, agricultural town of 20,000 people.
Arsenic has been a problem here since 2001. Before these kids were even born. But now, 15 years later, a new advocacy campaign has temporarily solved the problem—at least in schools. They've installed state of the art water filters, given kids durable water bottles, and installed stations where students can refill those bottles. And overlooking every one of those stations is Wally the Water Droplet, a smiley little cartoon. The students are taught: only drink the water if Wally's there.
"He looks like a dewdrop and he's blue, and he has a smile on his face," Mendoza says. "He looks friendly."
This is all a result of Agua4All, a collaboration between non-profit advocacy groups and concerned residents.
"Agua4all is basically a project to increase access to and consumption of safe drinking water throughout California," says Sarah Buck, a rural development specialist with the Rural Community Assistance Corporation and the Agua4All program manager. "For the past 2 years we've been doing a pilot project to get to that end through the installation of water bottle filling stations and treatment where necessary in south Kern and the eastern Coachella Valley."
So far, Buck and her associates have installed over 140 filling stations and 80 filters in schools and public spaces like parks. And Wally the Water Droplet? He plays a very important role.
"Once you know your water's safe, then we really want you to drink a lot of it," says Buck. "A lot of these kids and families really just are drinking way too many sugar-sweetened beverages and aren't drinking enough water. We really want to make water cool and make it desirable."
Agua4All is the product of over two years of planning and more than $2 million in grants and donations like water bottles. You might be wondering: why did it come to this? Lawmakers passed policies like the Safe Drinking Water Act and the Human Right to Water Bill to protect communities like Arvin. And yet, it was still up to a group of advocates to raise their own money and install their own filters. But even though these laws are huge steps forward, says Buck, they're still vastly underfunded, and community efforts like Agua4all may bring change faster than government agencies can.
"[These agencies] say, 'your water has to be under this amount to be safe, and we're going to fine you if you don't,'" says Buck, "'but there's not necessarily a mechanism for us to give you the money to do it.'"
The EPA recognizes the problems here in California. Jared Blumenfeld, an EPA administrator in charge of a number of western states, says the agency is putting pressure on California to prioritize smaller communities like Arvin.
"Any of the medium sized and large cities, this isn't an issue because you can pay for the infrastructure to take the arsenic out of the water," he says. "But if you're in a small community, drilling new wells is hard, and many communities have drilled well upon well and the source water still contains arsenic."
He says Agua4All has been a huge success, and it could be a model for other communities lacking money for big infrastructure upgrades. But as he said at an Agua4All rally last month, even this shouldn't have been so hard.
"We're here in 2016 celebrating a water fountain," he said to an auditorium of Arvin residents. "You'd think we were going to the moon—because this has taken that kind of effort."
Agua4All has made many schools and public spaces safer. Now, residents just need to wait a little longer for arsenic-free water in their homes. The city is drilling new wells, and so far, arsenic levels are well within the safe zone. If all five wells come up clean and clear, the rest of Arvin could get new drinking water as early as 2018.