More Doctors For The Valley? Region's First Medical School Opens Doors In Clovis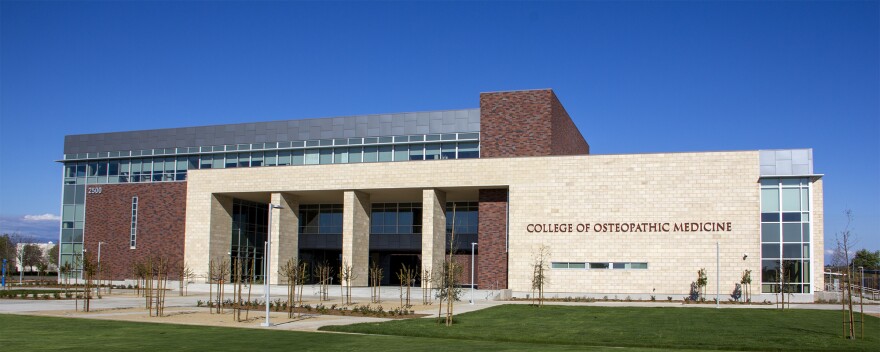 The San Joaquin Valley's first four-year medical school has finally opened in Fresno County. And, despite virtual learning at many universities during the ongoing COVID-19 pandemic, classes are being held in person.
The class of 2024 is now on campus at California Health Sciences University's College of Osteopathic Medicine in Clovis. It's the second program offered by the for-profit university, which opened a College of Pharmacy in 2014. "We've been waiting for this day for a long time," says medical school Dean Dr. John Graneto. "The smiles on people's faces, the excitement in the eyes of faculty and staff is just tremendous."
Classes began in late July, and Graneto says social distancing has been possible because the school has enrolled only its first class of 81 students. The building can accommodate up to 600 students at one time. "We have three very large classrooms to accommodate class sizes of 150," Graneto says. "And in fact two of the classes are side by side with a removable wall, so we have a 300-person classroom that we put 80 students in."
Graneto says each room has a designated entry and exit to prevent students and faculty from passing too close to one another, and each student was given a welcome package with masks, hand sanitizer and other supplies when they began classes.
The CHSU-COM is the third medical school in California to offer osteopathic medicine, which awards graduates with Doctor of Osteopathic Medicine degrees, or DOs. The practice places more of an emphasis on preventative medicine and whole-body health than does allopathic medicine, which anoints MDs. Both DOs and MDs qualify for the same residencies and specialized fellowships following medical school.
Graneto says it's no coincidence that the school was built in a region chronically underserved by healthcare workers. A 2019 study from the California Future Health Workforce Commission reported the San Joaquin Valley is served by 40 percent fewer primary care physicians and 50 percent fewer specialists than the state's wealthiest areas.
"The mission is to recruit and retain people in the Central Valley to stay here," says Graneto, and "to attract a diverse class of students who want to stay in the Central Valley and take care of people who are disadvantaged because of a lack of access to health care." A little over a third of this year's incoming class hails from the Valley and about 80% come from California, according to Graneto. In total, 27 languages are spoken among the school's inaugural class.
That mission is appealing to Taylor Nunes, an incoming student who grew up in Merced County in the city of Gustine. "Once I decided to pursue the path of becoming a physician, I always knew that I wanted to practice here in the Central Valley," she says. "I kind of have a unique understanding of our community's needs." Nunes studied kinesiology at Humboldt State and CSU Stanislaus, and is considering specializing in obstetrics and gynecology.
Nunes says she feels comfortable with the school's COVID-19 safety protocols, but that remote learning is available if she changes her mind. She says the pandemic hasn't scared her away from medicine, but has instead inspired her—particularly after seeing healthcare workers hustling on the front lines. "Really it just makes me more passionate to practice," she says. "I don't want to hide at home…I want to get out there and I want to help people."