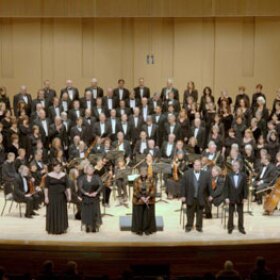 Fresno Community Chorus Master Chorale
Join Valley Public Radio for a special broadcast featuring the Fresno Community Chorus Master Chorale Thursday, January 21 at 8pm on FM89 and KVPR.org.
Composed nearly 300 years ago, Johann Sebastian Bach's St. John Passion poses profound questions for our own time. How are we as individuals ultimately accountable for our actions and inaction? Who is responsible when mob mentality threatens?
The epic work — equal parts choral symphony, opera, and stage drama — is challenging and inspiring, for performers and listeners alike. In April 2019, the Fresno Master Chorale staged the first Fresno performance of the piece in more than 50 years. And now Valley Public Radio is pleased to share it with you. In addition to the masterful musicianship, we'll hear insights from artistic director Dr. Anna Hamre and from soloist Terry Lewis.