CalViva-Kaiser Split Highlights Health Care Complexities, Patient Confusion
Earlier this summer, a contract between CalViva health and Kaiser Permanente left 9,000 Medi-Cal patients in the San Joaquin Valley to find all new doctors. We were curious how that transition happened, so we set out to find out how significant this change was in the healthcare world and how doctors and patients experienced it.
Carlo DeCicco has been on hold for about seven minutes, the bland hold music ringing out from his cell phone on the table in front of him. He's trying to reach a case manager with his daughter's health insurance network. When a representative answers, he picks the phone up so quickly he nearly drops it. "I'm trying to call to see where or how or what I can do with my daughter, where I can take her to see a psychiatrist," he says.
DeCicco's teenaged daughter suffers from chronic depression. She's been a Kaiser Permanente patient for around 10 years, seeing a child psychiatrist who knows her needs and can adjust her medication. So it was a shock when a letter arrived in July telling DeCicco: On September 1st, his daughter wouldn't have access to that doctor or any others at Kaiser. "To get notification basically a little over a month out with no real solid foundation to what's happening shows that there wasn't too much foresight put into it," he says.
The contract termination between CalViva and Kaiser affects close to 9,000 Medi-Cal patients in Fresno, Madera and Kings Counties. As far as numbers go, this shift in care is pretty small scale. But it takes place in an area suffering from high rates of chronic disease that's already in the midst of a doctor shortage. And to those affected by the contract change, it's significant—especially because this is supposed to be the health safety net.
Both CalViva and Kaiser say they're working to make the transition as smooth as possible, but it still brings out the helplessness patients feel when tossed from network to network. "Ideally, I'd be able to make a phone call and know by the end of the week my daughter will be able to go see a psychiatrist," DeCicco says. "Reality is, I'm not holding my breath on that one."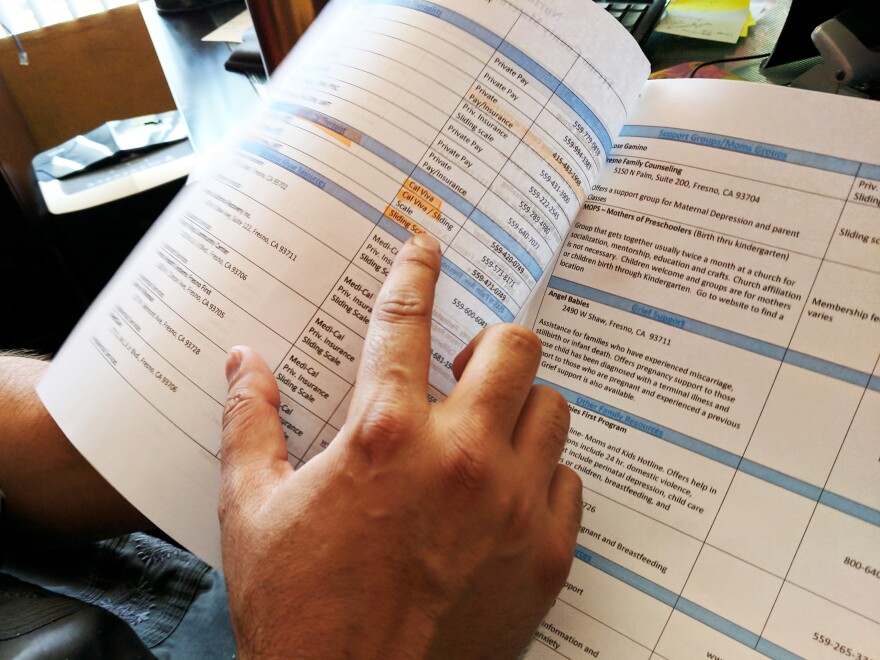 CalViva Health is a health insurer through the Medi-Cal Managed Care program. It's a public, non-profit health plan sponsored by a regional health authority in Fresno, Madera and Kings Counties. In this contract, Kaiser was the provider network, and CalViva reimbursed Kaiser doctors for seeing Medi-Cal patients.
As to how the contract ended, neither CalViva nor Kaiser agreed to an interview for this story, but they both answered questions by email. Kaiser claims CalViva terminated the contract without cause, and CalViva claims Kaiser wouldn't accept any of its proposed agreements.
Contracts like this are at work all throughout our health care system, and Anthony Wright of the advocacy non-profit Health Access says changes do happen all the time. "It's actually the byproduct of how we do health care, for better for worse, in our state and our country," he says. "It's largely a market-driven system based on negotiations between insurers and providers."
Contract changes can affect any number of beneficiaries. Sutter Health recently announced it was migrating 10,000 of its patients in Northern California over to new primary care doctors. Earlier this summer, Anthem announced it's pulling out of most of the state's individual insurance markets, affecting upwards of 150,000 patients. The 9,000 patients affected by this contract termination represent less than 1 percent of all Medi-Cal enrollees in the San Joaquin Valley.
Nadereh Pourat of UCLA's Fielding School of Public Health says this isn't all that surprising coming from Kaiser. "There are some health plans that actually take enroll a lot of Medi-Cal populations and some that historically have not taken on a large proportion," she says. "Kaiser is one of those."
Four years ago, Medi-Cal beneficiaries made up about 6 percent of Kaiser patients. Today, they're just 1.6%.
Part of what makes this transition difficult is that Kaiser providers don't accept any other insurance plans. Janet Coffman of UC San Francisco's Institute for Health Policy Studies says this leaves patients to rebuild their care networks from scratch. "Not just your doctors; you're going to be going to a new hospital, you're going to find a different lab, you're going to need to find a different pharmacy," she says.
Coffman says what's concerning about this situation is that it affects Medi-Cal patients in an already underserved area. Moving forward, she says, continuity of care is key, especially for those with chronic diseases and complex histories.
"It's actually the byproduct of how we do health care, for better for worse, in our state and our country. It's largely a market-driven system based on negotiations between insurers and providers."--Anthony Wright
CalViva claims it has a plan. For every patient pushed out of Kaiser, it claims it assigned them a new in-network primary care doctor. Carlo DeCicco doesn't recall ever being notified of that. The caretaker of another CalViva patient reported the same experience.
But Steve Schilling, CEO of Clinica Sierra Vista, says he agreed to accept about 800 of CalViva's patients into his clinics. "We've been given a list of names, of the folks they would expect to be assigning to our PCP health centers in Fresno, and we have been reaching out to them both by telephone and by letter over the last 30 days," he says.
Dr. Raul Ayala, a family practitioner and Chief Medical Officer of Adventist Health's rural health system, says his clinics were assigned around 1,000 patients. He says it'll be a tough squeeze, but they're used to it. "It happens all the time, we're constantly going through these changes," he says. "So I think we've just kind of gotten used to healthcare changing that fast."
Even for those doctors with the capacity for new patients, there's no telling how long wait times could be. Carlo DeCicco was lucky: His case manager did eventually connect him with a psychiatrist, and while scheduling, another patient cancelled. He got an appointment for his daughter yesterday—within a week of his call. He says it went well.
Others may not be so lucky. Before DeCicco was offered this appointment, he was told he'd have to wait until December.