Federal Agents In Fresno To Address Rise In Violent Crimes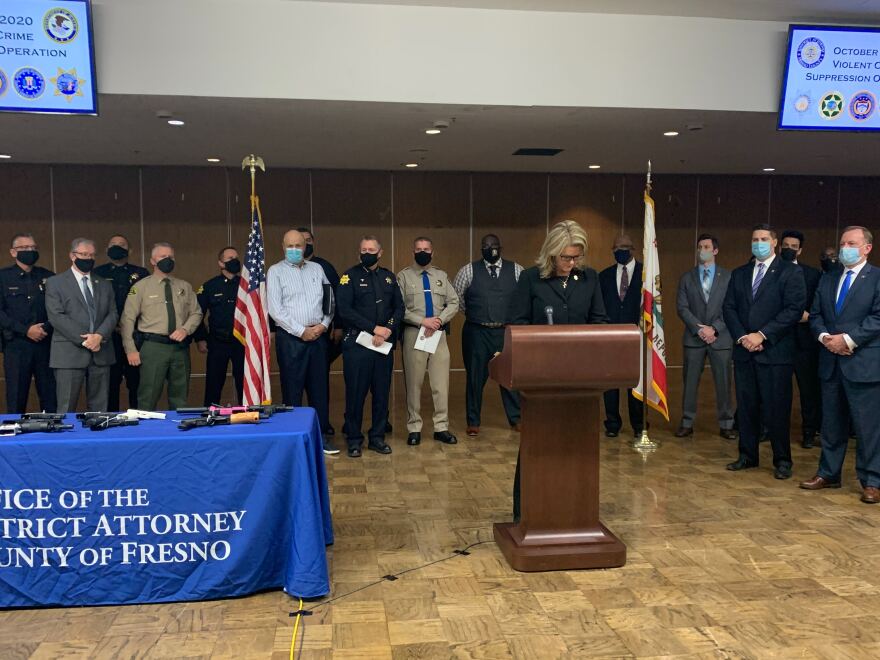 Federal agents announced Wednesday that they are now working with local officials in Fresno to mitigate the recent rise in crime. There have been 50 homicides and more than 560 shootings this year.
U.S. Attorney for the Eastern District of California McGregor W. Scott said he was shocked to learn there's been a 96% increase in shootings compared to last year. That's why Scott said he arranged to have federal agents help local law enforcement make arrests and decide where people should be prosecuted.
"To make a decision with DA Smittcamp's prosecutors, my prosecutors say okay should this person be prosecuted by the DA's office or should they be prosecuted by the federal government?" Scott said.
Nine individuals are already facing federal charges since the federal agents arrived, Scott said.
He added this October is the third anniversary of the relaunch of Project Safe Neighborhoods, an initiative aimed at reducing crime by having federal and local law enforcement work together to indict more people.
"Many times, this is particularly crucial in the gang context, they're going to serve their time in a federal prison in Pennsylvania or Georgia or Illinois a long way from the homeboys in Southwest Fresno," he said. The federal agents will not leave Fresno until they succeed in reducing violent crimes in the area, according to Scott.
And the U.S. Attorney added, "I want to be clear that we are not going after people because of the color of their skin, we target conduct."
Fresno County District Attorney Lisa Smittcamp said this is a necessary step in mitigating the rise in violent crime in Fresno. She also railed against Governor Gavin Newsom's decision to begin emptying prisons to protect people incarcerated from contracting COVID-19.
"The average citizen has never heard of youth offender parole or elder parole but they are release tactics being used by the Governor on a daily basis to empty the prisons," Smittcamp said.
She said the Governor's mandate to minimize the amount of people incarcerated in state and local prison is relevant now that county jails do not have enough space to house people arrested.
"His solution to COVID protection and prevention is letting them [inmates] out of prison with no regard for their victims and the communities they will return to terrorize. So I just said it: Governor, open up the prisons. Do your job."
Fresno County Sheriff Margaret Mims said the DA was right to direct the blame at the Democratic Governor.
"Nearly 20% of our jail population is comprised of state inmates that are sentenced that are ready to go on to state prison. However the reception centers are closed," Mims said.
But John Capitman, the executive director of the Central Valley Health Policy Institute, took issue with these statements. He said he was shocked by the lack of evidence provided by Mims and Smittcamp that would indicate the people committing these violent crimes were the same people being released from the prison.
"It just came out as a straight assumption," Capitman said. "They did not provide the evidence for the explanations that they were providing and so that leaves a sense that there's biased decision making occuring."
Communities of color in Fresno have been hit the hardest in terms of positive COVID-19 cases and job loss. And there is a history in Fresno of lack of opportunity or investment, according to Capitman.
"And still, people went back to blaming communities of color and wanting to increase police presence rather than looking at ways to de-escalate," he said.