Despite Smart & Final Setback, Swearengin Says Blackstone Vision Remains Sound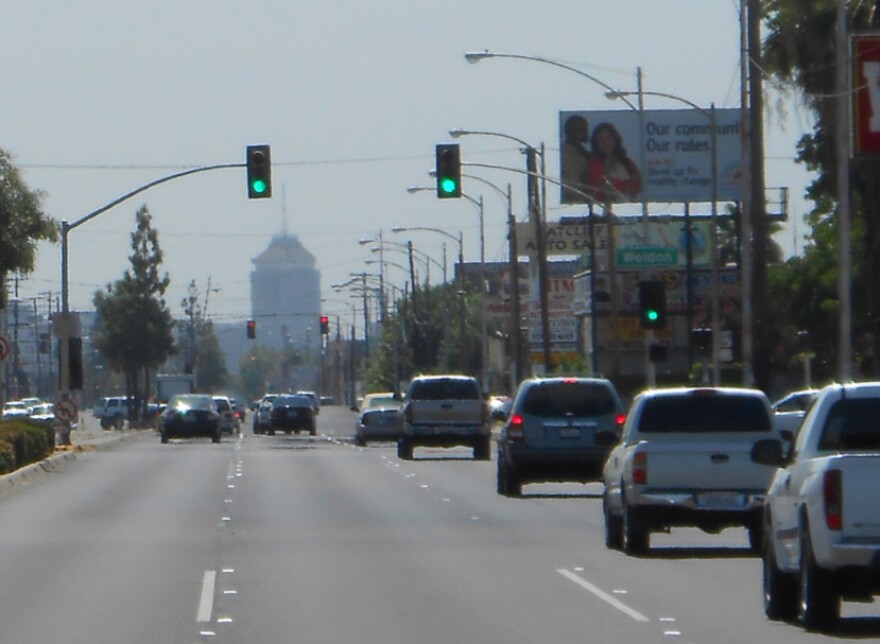 Fresno's Blackstone Avenue has seen better days. A drive down the six lane strip of asphalt that stretches from downtown past ramshackle used car lots and abandoned storefronts all the way to the booming River Park area on the northside, can tell you a lot about where the city has been and where it is headed.
But there's also a new vision for Blackstone, filled new mixed use developments - multi story buildings with retail on the bottom and offices or apartments on top, perhaps Fresno's version of Wilshire Boulevard. And this pedestrian friendly new vision is all supported with a new federally funded with mass transit system, called BRT. That is the vision spelled out in the city's new general plan at least.
But not everyone is on board that bus. Councilmember Clint Olivier who represents much of Blackstone lashed out at the administration of mayor Ashley Swearengin last week in an op-ed in the Fresno Bee, claiming that the city's new rules that s to remake Blackstone are driving away investment. He was specifically talking about a now dead proposal to build a Smart and Final store and two other buildings on a set of blighted, abandoned properties at Blackstone and Clinton. The city wanted to ensure that the new project complied with the new plan, which Olivier also opposes. The developer now says Smart and Final will look another site elsewhere in Fresno. Meanwhile the site sits with vacant, decaying buildings and talk that perhaps another tenant might be found to resurrect the street corner.
We invited both Clint Olivier and Ashley Swearengin to join us to talk about their competing visions for Blackstone. Councilmember Olivier declined, citing scheduling conflicts. Yesterday though I had a chance to speak with Swearengin about this and a few other pressing issues at city hall. Here's our conversation: