California Farmers Say Rain Is A Good Thing, But Too Much Can Delay Planting, Harvest
Les Wright oversees all of Fresno County's crops. He's the agricultural commissioner here. Often he's meeting with growers and ranchers on their farms, but today he's fielding calls from his Fresno office.
"A tenth of an inch when the cherries are mature can ruin the crop. We had that last year where we probably lost 40 to 60 percent of our crop." - Joe Del Bosque
The reason? He says farmers are busy doing office work because the rain means they can't be in the fields.
"Some are welcoming more rain, others aren't," Wright says. "I was talking to one of the major growers out on the Westside and they were trying to mud-in their onion seed because it was so wet."
For the most part Wright says all the rain the region's received is positive, but rain falling at the wrong time can delay planting and harvest. For some crops really wet weather can increase the risk of mold and mildew. Wright says grains and tree crops like oranges, peaches and almonds are somewhat okay with the rain even though heavy drops can knock petals off flowering trees and create uneven fruit growth. He says the real issue comes with crops that are planted yearly.
"I noticed on the Westside where tomato transplants are going in there really moving fast trying to get them in and this will slow them down a couple days," Wright says.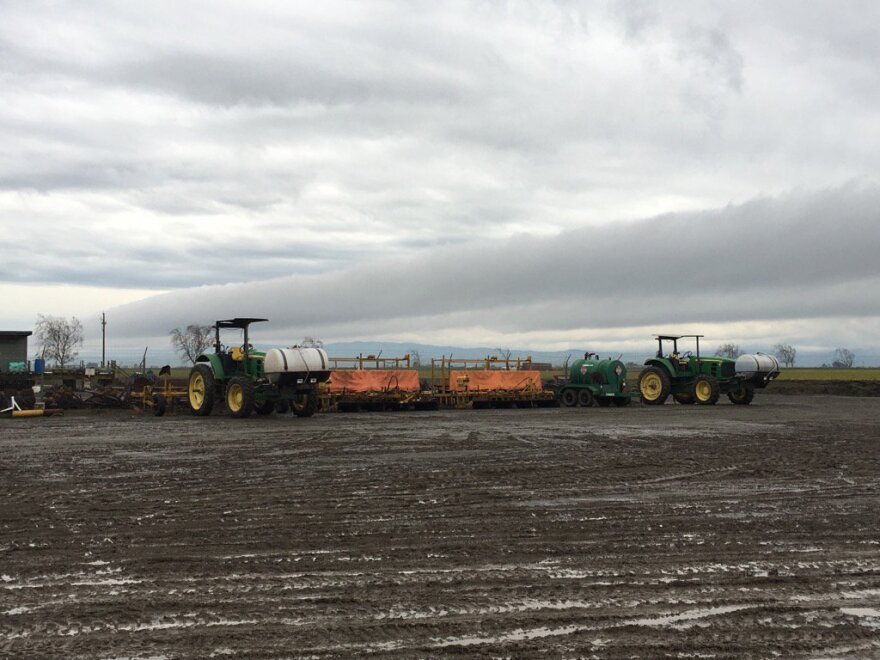 I wanted to visit farms across the region to get a sense of how crops are doing with all this rain. But like Wright, the farmers I chatted with were stuck in their offices because of it. Los Banos nut and vegetable farmer Cannon Michael says all this rain has delayed putting tiny tomato plants grown in greenhouses into the ground.
"Later on the harvest side you might get into some trouble with a lot of tomatoes that would've normally been spaced out in the planting are suddenly compressed into the windows between the storms," says Michael.
He says that can create a problem with all the tomatoes ripening at the same time and inundating processors. Meaning some of those veggies won't be canned or turned into tomato sauce. Not too far away in Firebaugh vegetable grower Joe Del Bosque says the asparagus he's growing likes the rain, but not necessarily cooler temperatures.
"You know middle to high 70s like we've had it's growing about an inch to a couple of inches a day," say Del Bosque. "When you get weather like this it slows down to probably less than an inch a day. We have to stop harvesting and let the growth catch up."
He says as a farmer he appreciates the rain, but when too much much falls it can be a nuisance. He hopes there's no rain in a few weeks when his cherries are ripe. Ripe cherries have thin skin vulnerable to the elements.
"A tenth of an inch [of rain] when the cherries are mature can ruin the crop," say Del Bosque. "We had that last year where we probably lost 40 to 60 percent of our crop because of rain."
So much rain fell last month that the ground in Del Bosque's almond orchards couldn't soak up all the rainfall. Below is a video of flooding Del Bosque took of flooding in one of his orchards.
Strawberries also don't do too well with rain. Carolyn O'Donnell with the California Strawberry Commission says berry farmers like the rain because they don't have to water plants. Still she says heavy precipitation can ruin growing berries.
"Once they take the damaged fruit off the plants the plants are still producing, they're blooming, they're still producing more fruit," says O'Donnell. "A lot of rain doesn't necessarily mean it ends the season for them."
Like strawberries mandarins, oranges and grapefruit are faring pretty well says Bob Blakely with the trade association California Citrus Mutual because they're heartier than thin skinned fruits and veggies. He says the main problem is that heavy rain makes it too muddy for crews to tend to trees.
"One or two days they may be out of the grove, but they'll still be packing fruit and shipping fruit, unless we get a week of it all strung together to where they start running out of fruit in the packing house," says Blakely.
He says the main citrus harvest could be delayed about three weeks because of rain. For other farmers reliant on water from the Central Valley Project stored in San Luis Reservoir it's a slightly different story. Gayle Holman represents 700 family farms on the west side for Westlands Water District. She says a month late water allocation announcement in March of 65 percent was a blow to her growers. A 100 percent allocation was announced Today April 11, 2017.
"They only planted on what they thought they would have and quite honestly up until early January we were looking at hopefully maybe a 15 percent water allocation," says Holman.
Because of that Holman says farmers had to guess about how much to plant because of the uncertainty of the allocation and precipitation. Dan Errotabere is one of those farmers. He grows a wide variety of nuts and veggies near the Fresno County community of Riverdale.
"When you get a wet winter like this and a delayed allocation it's hard to plan with water allocations this late," says Errotabere. "Most of these crops have a timeline certain of when they got to be put in the ground. It usually means I plant less of all those."
But at the end of the day when all this rain stops all these farmers and water managers agree on one thing. They're in a much better place this year than during the previous five years of drought when water was scarce and growing crops was tough.